GEM Concierge SMS FAQ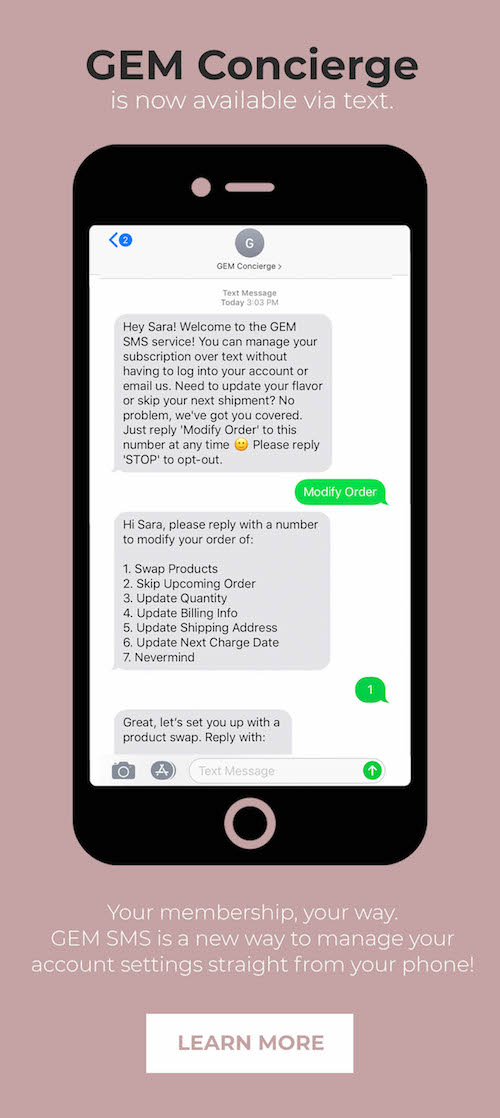 What number do I text?
You can text 'Modify Order' to 415-340-6085 and the GEM bot will walk you through your options!
What keywords can I send?
Modify order - Will send you the full menu of options
Skip order - Will help you skip your next order
Help - Will give you more information on how to use GEM Concierge
End subscription - Will help you cancel your subscription
Reactivate - Will help you reactivate your subscription
STOP - Will opt you out of GEM Concierge texts
START - Will re-start GEM Concierge texts
Do I have to pay for this?
No, but carrier fees may apply. Check with your carrier's SMS fees to learn more.
How do I update my order?
If you'd like to skip your next order, all you have to text is 'Skip order' and you'll be prompted with confirmation text.
If you'd like to do more than skip, text 'Modify Order' and we'll send you the full menu of options to update your subscription.
What's the default skip interval?
The default skip interval is 1 month. If you'd like a different amount of time, reply to Modify Order with 6, which will allow you to choose your next charge date instead. 
Why isn't it updating my next requested shipping date?
Make sure your date is formatted as MM/DD/YY. So you'd need to send 12/21/19 (December 21st, 2019) in order to have your next shipping date correctly updated.
How can I opt out?
Text 'STOP'
I opted-out on accident… what do I do?
No worries - text 'START'
Is there a WHATSAPP number I can use?
We're working on it :)
How do I change the date of my upcoming charge notification?
At this time we send a message 3 days in advance of your order, but you are unable to select a different send date. 
Any other languages other than English?
Not at the moment. Most of the customers using this speak English so we started with that. Feel free to request a new language by emailing wes@ae.studio.
I accidentally ended my subscription, what do I do?
No worries! Text "Reactivate" and it will get you on your way to get back to your original subscription.
Why does it keep telling me it doesn't know what I'm saying?
Our bot is pretty sharp but it doesn't know too many keywords just yet. Please refer to the keywords at the top of this FAQ for help with that (although Modify Order is always a good place to start). If you need help otherwise, email us at hello@dailygem.co
I received a text that had odd words in it, what's up with that?
That's a bug. We're working on it. Feel free to send a screenshot of that text to this guy wes@ae.studio.
Are my texts being read by a human?
No, they are being answered by a bot, which is why we may not understand what you are saying sometimes (see above). 
Are my texts being logged and saved somewhere?
Yes. They are being saved to a local, secure database.
Emoji support?
Not yet 👨‍💻
---
---